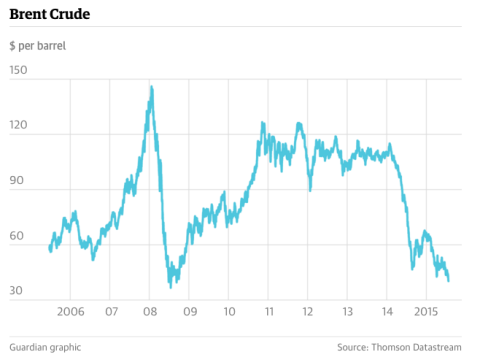 The world's leading oil producers are preparing for the possibility of oil prices halving to $20 a barrel after a second day of financial market turmoil saw a fresh slide in crude, the lowest iron ore prices in a decade, and losses on global stock markets.
Benchmark Brent crude briefly dipped below $40 a barrel for the first time since February 2009 before speculators took profits on the 8% drop in the cost of crude since last week's abortive attempt by the oil cartel Opec to steady the market.
But warnings by commodity analysts that the respite could be shortlived were underlined when Russia said it would need to make additional budget cuts if the oil price halved over the coming months.
Alexei Moiseev, Russia's deputy finance minister, told Reuters: 'If oil goes to $20, we will need to do additional [spending] cuts. Clearly we have shown that we are very willing to cut fiscal spending in line with an oil price at $60, for example. In order for us to be long-term sustainable [with the] oil price at $40, we need to do additional cuts, but if the oil price goes to $20 we need to do even more cuts.'
This post was published at David Stockmans Contra Corner on December 9, 2015.