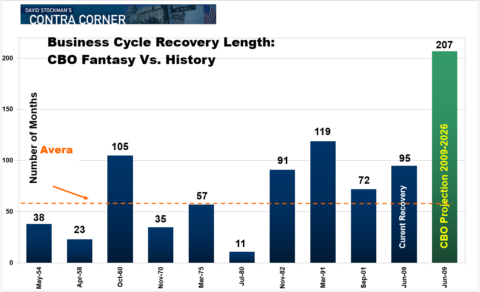 During the 40 months after Alan Greenspan's infamous "irrational exuberance" speech in December 1996, the NASDAQ 100 index rose from 830 to 4585 or by 450%. But the perma-bulls said not to worry: This time is different—-it's a new age of technology miracles that will change the laws of finance.
It wasn't. The market cracked in April 2000 and did not stop plunging until the NASDAQ 100 index hit 815 in early October 2002. During those a heart-stopping 30 months of free-fall, all the gains of the tech boom were wiped out in an 84% collapse of the index. Overall, the market value of household equities sank from $10.0 trillion to $4.8 trillion—-a wipeout from which millions of baby boom households have never recovered.
Likewise, the second Greenspan housing and credit boom generated a similar round trip of bubble inflation and collapse. During the 57 months after the October 2002 bottom, the Russell 2000 (RUT) climbed the proverbial wall-of-worry—-rising from 340 to 850 or by 2.5X.
And this time was also held to be different because, purportedly, the art of central banking had been perfected in what Bernanke was pleased to call the "Great Moderation". Taking the cue, Wall Street dubbed it the Goldilocks Economy—-meaning a macroeconomic environment so stable, productive and balanced that it would never again be vulnerable to a recessionary contraction and the resulting plunge in corporate profits and stock prices.
Wrong again!
This post was published at David Stockmans Contra Corner on December 29th, 2017.