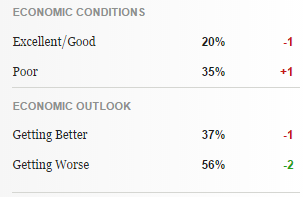 Most Americans are confronting a system where the deck is stacked against their interests. Most Americans saw the true colors of the system during the Great Recession panic when government joined forces with Wall Street to essentially fire the middle class with explicit and hidden bailouts. There is unfortunately a large amount of cronyism embedded in the current system. Most Americans have very little in stock market wealth. Over 81 percent of stock wealth is held by the top 10 percent of the population. This is why for most, retirement is largely one pipe dream. Yet the problem of the bailouts was the split of corporate welfare for connected institutions and austerity measures for the rest of the country. Wall Street is driven by profits and companies were able to slash their way into profitability while boosting earnings and using large safety nets and golden parachutes for those at the top. Banks that should have failed survived thanks to the too big to fail mantra. This is why, after a record stock market run since 2009 many Americans still view the economy as performing poorly. For them it is. You also have Wall Street invading the one asset where Americans used as a forced savings account, housing. Even in this one asset class Americans are being pushed out.
Not buying the stock market rally
The data is clear in that very few Americans own any substantial amount in stock wealth. 81 percent of stock wealth is held with 10 percent of the population. The recent rally was driven by slashing wages, cutting benefits, leveraging bailout funds, and ultimately using the recession as proof that labor was fully disposable. The days of corporatism are gone and now the reality of company loyalty is long gone. The government and lobbyists will assist those at the top but for most middle class Americans, the game is over.
This is how you can have a stock market peak with such poor sentiment:
This post was published at MyBudget360 on September 10, 2014.