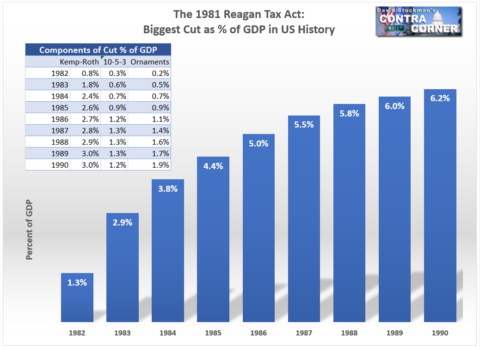 In Part 1 we revived Senator Howard Baker's famous description of the giant Reagan Tax Cut of 1981 as a "riverboat gamble", and that it was. When the "bidding war" with the Dems ended in July 1981, the US Congress had cut the Federal revenue base by 6.2% of GDP in the outyears. At today's economic scale that would amount to a tax cut of $1.2 trillion per year!
***
By contrast, the peak year cut (FY 2019) in the current tax bill is just $280 billion. Nevertheless, we present this chart to demonstrate why today's GOP "riverboat gamble" is actually far more dangerous than the one back then, and also why it's capacity to actually stimulate a growth surge in the US economy is not even a pale imitation of the 1981 act.
This post was published at David Stockmans Contra Corner on Thursday, December 21st, 2017.