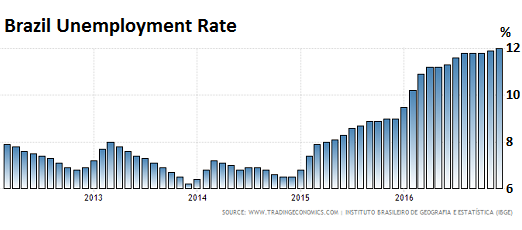 A very inconvenient connection.
Brazil is in the middle of a political and corruption crisis blooming on the verdant pastures of an economic and fiscal crisis that has now produced a second year of recession in a row, with the financial curse of the Olympics still hanging over the country for years to come.
Nearly 12 million people were counted as unemployed in December. The number of employed fell to 90.4 million, from 92.1 million a year earlier. The unemployment rate has steadily climbed to reach 12% in December, up from 6.5% in December two years earlier (via Trading Economics):
This post was published at Wolf Street by Wolf Richter ' Feb 14, 2017.