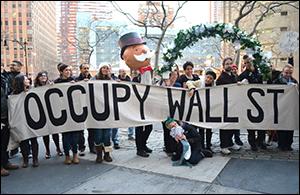 Wall Street appears to have a plan to get the deregulation it wants by pinning the start of the epic financial crash of 2007-2010 on (wait for it) the French, rather than its own unbridled greed, corruption and toxic manufacture of junk bonds known as subprime debt that it paid to have rated AAA by ethically-challenged and deeply conflicted rating agencies. (The same rating agencies that are getting paid by Wall Street to rate its debt issues today.)
One of the men helping to peddle this narrative is Steve Hanke, a Senior Fellow at the Cato Institute, a taxpayer-subsidized nonprofit that was secretly owned by the billionaire Koch brothers for decades.
Hanke's bio at Cato lists him as a Professor of Applied Economics at John Hopkins University in Baltimore and provides the following titillating background:
'Prof. Hanke served as a State Counselor to both the Republic of Lithuania in 1994-96 and the Republic of Montenegro in 1999-2003. He was also an Advisor to the Presidents of Bulgaria in 1997-2002, Venezuela in 1995-96, and Indonesia in 1998. He played an important role in establishing new currency regimes in Argentina, Estonia, Bulgaria, Bosnia-Herzegovina, Ecuador, Lithuania, and Montenegro. Prof. Hanke has also held senior appointments in the governments of many other countries, including Albania, Kazakhstan, the United Arab Emirates, and Yugoslavia.'
This post was published at Wall Street On Parade on August 21, 2017.