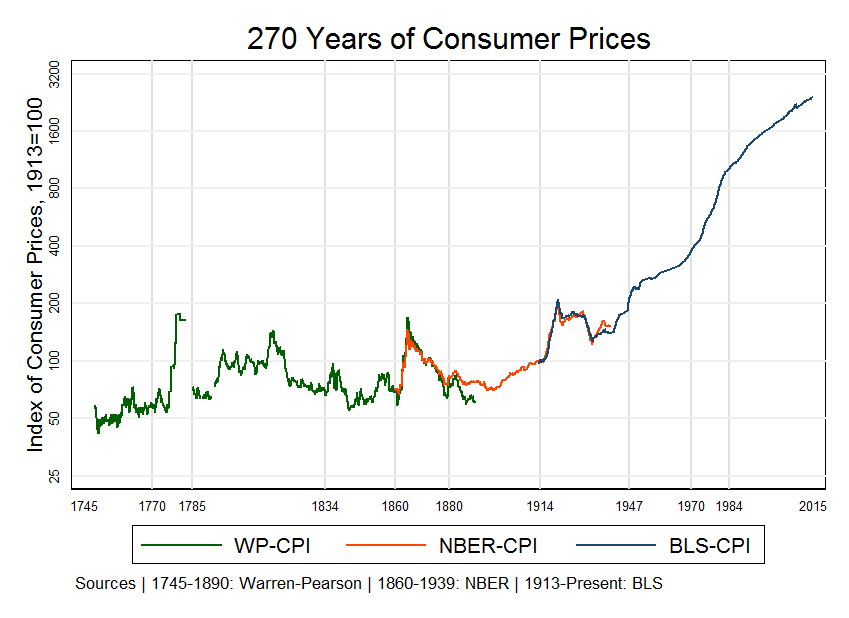 People tend to be creatures of habits. It always intrigues me how most of the people I speak with seem to already assume that prices will always go up. It is the default life position. They know the sun will rise, grass will typically be green, and prices over time will go up. While some are based in natural law, inflation is and will always be a human made condition. So it is important to step back from the day to day operations that guide us and actually look at where prices stand today in relation to history. I think most in the US really don't have the fear of say South America or Europe when it comes to inflation because they have never witnessed a full crisis driven by out of control money policies. Today, we are told that inflation is low yet when we actually step back, inflation is already eroding the purchasing power of the middle class dramatically. It is usually helpful to look at history as to learn from our past.
270 years of inflation
I think we can learn a lot from looking at data. While we can learn a lot from history, you will also realize that people are still governed by greed, cronyism, and poor judgment. After all, the Great Recession was the worst financial crisis in the US since the Great Depression. Did we not learn the lessons from the past? Life is a live action situation and inflation is one of those components.
I found this chart to be extremely illuminating:
This post was published at MyBudget360 on October 2, 2014.