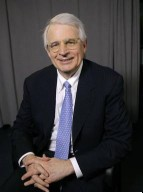 Federal Reserve Chair Janet Yellen and her cronies are resorting to parlor tricks to prop up the U. S. economy, but the curtain will fall soon enough on their harmful efforts, according to David Stockman, White House budget chief during the Reagan administration.
One problem is that household debt is still off the charts even while Yellen et al are practicing 'bathtub economics' in the face of a glaring gap between income and jobs on the one hand, and aggregate demand for goods and services on the other, Stockman maintains.
'This purported 'output gap' is conveniently self-serving. It has been interpreted to mean that the Fed has a plenary mission to fill up the nation's economic bathtub by generating sufficient incremental aggregate demand to offset the shortfall.'
Writing on his Contra Corner blog, Stockman said Washington has empowered the Fed 'to manipulate, massage, twist, bend and pump any financial variable that in its wisdom is deemed to influence the transmission of its monetary policy (i.e., 'aggregate demand' stimulus) into the real economy.'
However, the problem is that what drives the real main street economy, in his view, is nothing more than total spending by households and businesses. And spending can only be accomplished with income or debt.
This post was published at David Stockmans Contra Corner on December 5, 2014.