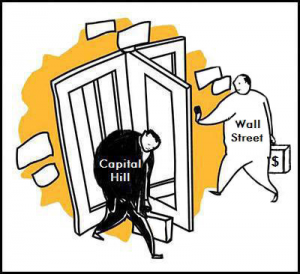 It's more than a coincidence that at a time when the two leading candidates for the highest office in the United States are considered untrustworthy by tens of millions of their fellow citizens, the industry that has perpetually attempted to stack the political deck in Washington has also lost the trust of a majority of Americans.
This feels to many like having Wall Street's one percent at the rudder for the past two decades has finally steered the ship of state into a toxic sink hole that is devouring the credibility of the United States at home and abroad.
Wall Street's image has fallen so low that the Federal Reserve Bank of New York is holding an annual 'Reforming Culture and Behavior in the Financial Services Industry' conference. That New York Fed President Bill Dudley is heading up this conference shows just how hopelessly lost Wall Street really is. (Dudley is the guy who didn't see a problem with his wife collecting $190,000 annually from JPMorgan Chase while Dudley supervised the bank. The New York Fed is also the place that allowed JPMorgan CEO Jamie Dimon to continue to sit on its Board as JPMorgan was being investigated by the Fed for losing over $6 billion in depositors' money in the London Whale derivatives fiasco. And Dudley is also the guy that allowed the firing of one of his own bank examiners, Carmen Segarra, after she filed a negative examination of Goldman Sachs. Segarra filed a Federal lawsuit charging that she was fired in retaliation for refusing to change her examination report. The portrait of the New York Fed as a crony regulator under Dudley was dramatically broadened in 2014 when ProPublica and public radio's This American Life released internal tape recordings Segarra had made inside the New York Fed showing a lap dog regulator cowering before a powerful Wall Street firm.)
This post was published at Wall Street On Parade on November 2, 2016.