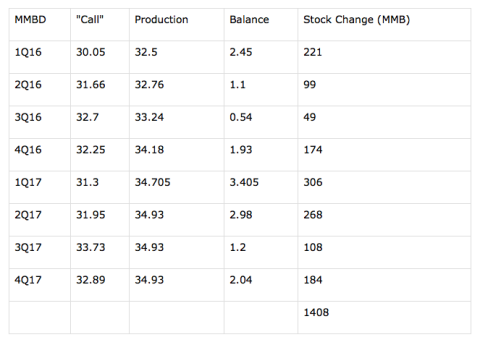 Summary
Seadelta loaded Libyan crude, headed to China. Sudden rise expected in exports from Libya and Nigeria. Other producers expected to increase production as OPEC meets this week. Potential additions on the order of 1.4 billion barrels. February low in crude prices may be tested. I recently wrote that OPEC's 'production risks to the upside,' as OPEC's hopes for a supply-demand balance for 2017 have faded. I specifically mentioned that Libya and Nigeria want to restore production if and when they can.
Mohamed Oun, the country's envoy to the Organization of the Petroleum Exporting Countries, said in an interview today, 'Definitely, we will not agree to a freeze without reaching our quota from before,' which is 1.6 million barrels per day.
On Thursday, a 'Black Swan Event' appeared in the news, that Libya was ready to double its production to 600,000 b/d within 4 weeks and to 950,000 b/d by year-end. At the same time, Nigeria was planning to restore more than 500,000 b/d of exports within days. I assessed that this scenario, if it materializes, could cause the crude oil market to re-test its lows of last February.
This post was published at David Stockmans Contra Corner By Robert Boslego, Seeking Alpha ' September 19, 2016.