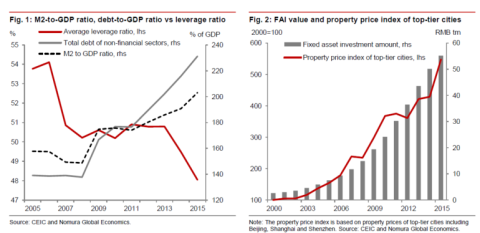 China Debt Default? To alleviate its debt problem, China should adopt appropriate macro-economic policies encompassing currency depreciation and cutting interest rates to an ultra-low-level within two to three years, believe Nomura analysts. Yang Zhao and team said in their September 14 research piece titled 'China: Solving the debt problem' that they believe RMB depreciation will continue and forecast USD/CNH at 7.1 at the end of 2017.
China Debt Default – China should join ultra-low interest rate club
Also see the Big Short II – hedge funds bet on major fall on yuan
Zhao and colleagues highlight two stylized 'facts' which haven't been properly understood: high debt versus low leverage and the ever-rising M2-to-GDP ratio, which has been growing for over three decades, except during 2004 to 2008. The analysts argue that China faces a debt problem, but not a leverage problem. They highlight that while the country's debt-to-GDP ratio is breathtakingly high, its corporate debt-to-asset ratio is generally low. They attribute the low leverage ratio largely to fast-growing asset values, driven by fixed asset investment and rising property prices.
This post was published at David Stockmans Contra Corner By Mani /September 15, 2016.