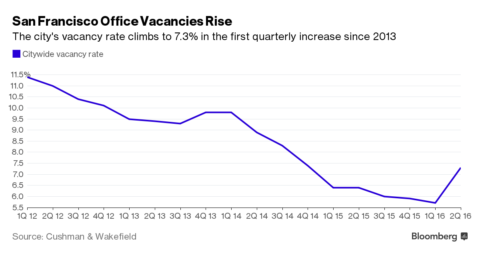 Office landlords are bracing for a cooling of San Francisco's red-hot market as weaker startup valuations and lower venture-capital funding temper years of runaway growth in the technology-industry hub.
The city's office-vacancy rate jumped in the second quarter by the most since the last recession, while the amount of space available for sublease almost doubled, according to a report to be released this week by brokerage Cushman & Wakefield Inc. New lease deals have tumbled so far this year.
With demand seen cooling further, office owners who benefited from years of heated leasing by the likes of Uber Technologies Inc., Airbnb Inc. and Twitter Inc. are now rushing to seal deals and capture rents near record highs. They're seeking to sign longer leases with creditworthy companies before prices slide, renewing agreements well ahead of their expiration and offering concessions, including free rent and cash for space improvements, according to J. D. Lumpkin, a managing director at Cushman & Wakefield in San Francisco.
'We may not be in a free fall, but it's a sign of things to come,' Lumpkin said. 'Those who are smart know it's time to get aggressive and lock in credit tenants that you want for the next five, seven, 10 years in new leases and do whatever it takes.' The moves represent a turn for a commercial real estate market that until recently had the nation's lowest vacancy rate, driven by early stage tech firms scooping up space and Silicon Valley giants expanding to accommodate workers seeking an urban lifestyle. Now, the flood of money to startups is slowing and investors expect acquisitions of smaller companies whose valuations are falling, potentially leading to job cuts and office consolidation.
This post was published at David Stockmans Contra Corner By Alison Vekshin, Bloomberg Business ' June 30, 2016.